SCIENTIFIC WORKSHOP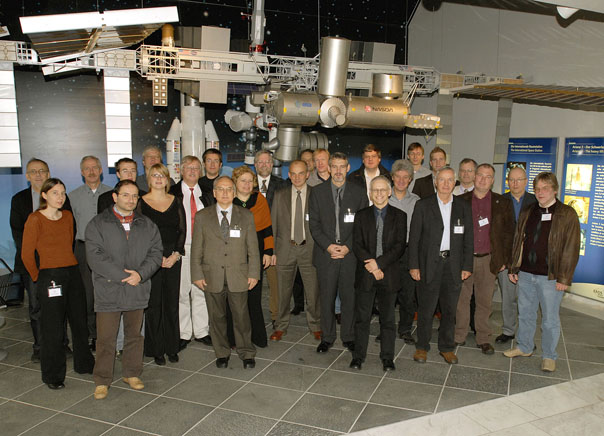 Towards a European Infrastructure for Lunar Observatories II
Bremen, November 23-24, 2006
sponsored by EADS and ASTRON
Scope of the workshop
This is the second workshop on the prospect of Lunar observatories, following the March 2005 workshop.
The main goal of the workshop is to provide timely input in the programmatic discussion in preparation to the ESA Ministerial Council in 2008. This workshop is aimed both at informing the community about the current status of a European lunar observatory, and to solicit input from the community for the science – specifically related to astronomy and astrophysics – that could and should be done from the moon. Topics that have been discussed in the past range from low-frequency radio observatories to submm-wave, infrared, optical, or X-ray telescopes and particle detectors. Synergies with other experiments, e.g. with a network of seismic sensors or other detectors spread over a part of the lunar surface have also been considered. Nonetheless new ideas are still welcome.
Format
The workshop will consist of both invited and contributed talks and will leave ample space for discussion. It will begin with a lunch on Thursday, November 23 and will finish with lunch on Friday, November 24, on the premises of EADS in Bremen. It is a busy time and it is no coincidence that other Exploration and Moon-workshops are happening around this date, so it is possible to attend only one day if necessary.
Program
The program for the workshop starts Thursday the 23rd at 12:00 (Programmatics & Observatories) and closes Friday the 34th at 16:00 (Science with Lunar Telescopes)
View program and presentations
Proposals
We welcome proposals for talks about potential astronomy to be done from the moon. Technical and theoretical papers are both welcome.
Participants
Address and route description
The venue is on the premises of EADS; see Google map of venue. It is directly at the Bremen airport and can be easily reached by public transportation from the main railway station (Take tram line No. 6, destination Flughafen/Airport, up to the terminus Neuenlander Feld - you can go to the on-line timetable query of DB German railways and enter Neuenlander Feld, Bremen as your destination).
The hotel is within walking distance - see website of Atlantic Hotel Bremen Airport.
Scientific Organizing Committee
Hartmut Müller/EADS (Co-chair)
Heino Falcke/ASTRON (Co-chair)

George Miley (Univ. Leiden)
Dietrich Lemke (Max-Planck Institut für Astronomie, Heidelberg)
Leonid Gurvits (Joint Institute for VLBI in Europe, JIVE)
Graham Woan (University of Glasgow)
Dietrich Vennemann (ESA)
Sebastian Jester (Southampton/Heidelberg)
Sponsors
EADS/EADS SPACE Transportation is the European space transportation and orbital systems specialist. It designs, develops and produces Ariane launchers, the Columbus laboratory and the ATV cargo vessel for the International Space Station, atmospheric re-entry vehicles, propulsion systems and space equipment.
ASTRON is short for the Stichting ASTRonomisch Onderzoek in Nederland (Netherlands Foundation for Research in Astronomy) it operates under the umbrella of the Dutch national research council, NWO (* Nederlandse Organisatie voor Wetenschappelijk Onderzoek). It currently builds the LOFAR radio telescope and wide area sensor network.

RadioNet is an Integrated Infrastructure Initiative (I3) that has pulled together all of Europe's leading astronomy facilities to produce a focused, coherent and integrated project that will significantly enhance the quality and quantity of science performed by European astronomers.