NAC 2015 has finished

It was only May, but in 2015 astronomers in the Netherlands already discovered giant rings around an exoplanet; a star catapulted by it's supernova-going companion; the space-time bending of a double neutron star; how merging clusters revive star formation; and gamma-ray sources in the Large Magellanic Cloud. These and many other results were presented and discussed at the Netherlands Astronomy Conference 2015, in Nunspeet. ASTRON was proud to host NAC2015, 20-22 May, and showcase the breadth and depth of Dutch astronomy. Thanks go to the LOC and SOC for making the conference a success.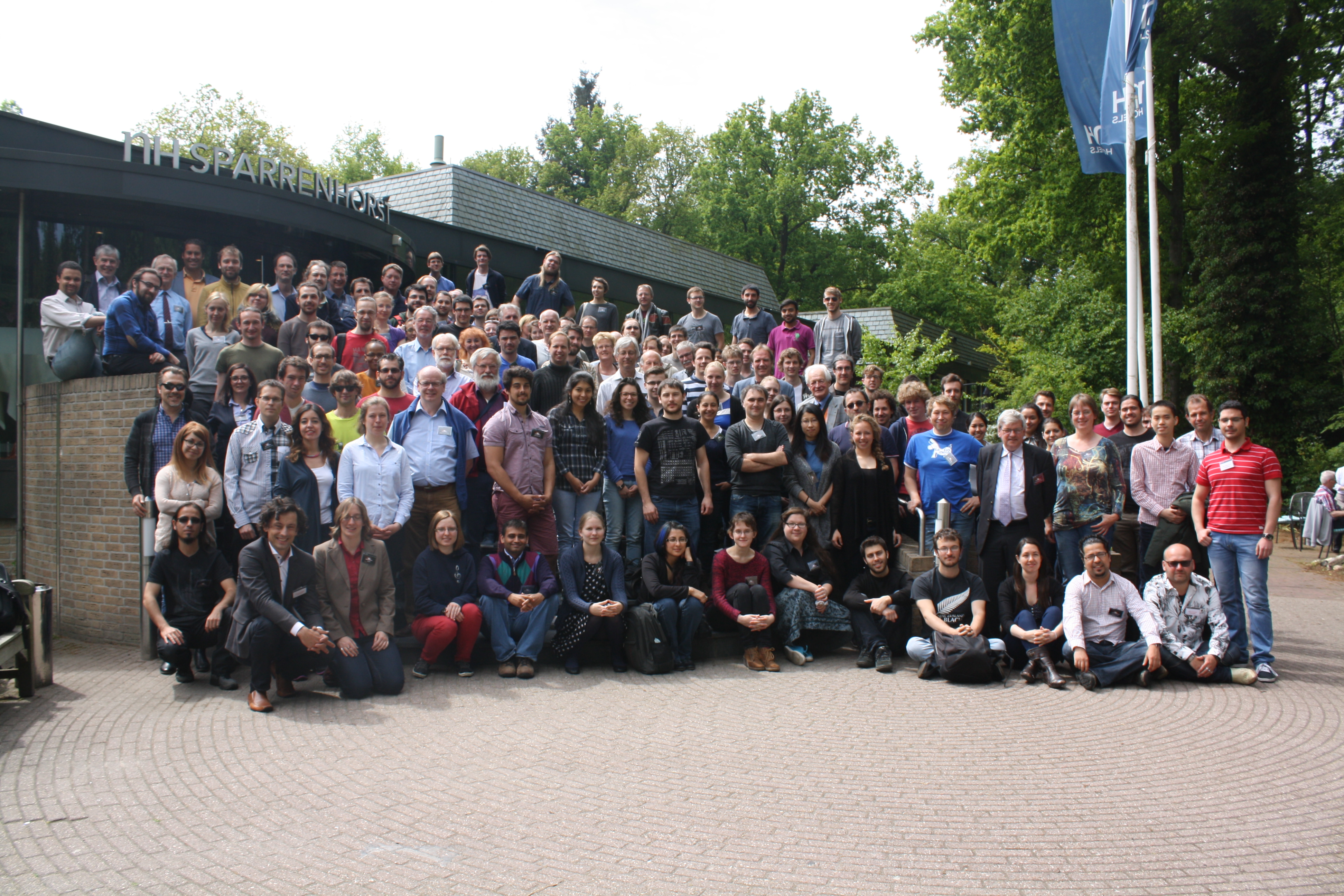 Conference photo by Leon Oostrum. A selection of the 30 best photos available for download.
General information

ASTRON is pleased to welcome you to the 70th Netherlands Astronomy Conference, which will take place May 20-22, 2015 in Nunspeet, NL. This is an opportunity for Dutch and Flemish professional astronomers to come together to share their recent research results, and meet science journalists, industrial partners and science policy makers.

We are expecting to present an exciting and varied program that ranges from contributed talks by PhD students and their latest results from the forefront of Dutch research, to a number of international, invited lectures. We will organize special sessions on each of the three NOVA networks (Galaxies; Stars and planetary systems; Compact objects) and one on Supercomputing in Astronomy. We look forward to your abstract submission (deadline April 8). Contact the SOC at nac2015@astron.nl for press support on especially newsworthy results.

In addition to the scientific sessions, the Astronomy Conference program includes ample opportunity for networking over dinners, drinks and social events. Nunspeet is centrally located and easy to reach by train or car; we look forward to seeing you there in May.
Latest info for participants
You can find some important final logistics information below. Everything else you need to know, including the latest program, is of course updated on the conference website.
Hotel, food and beverages, leisure
In case you have requested hotel accommodation in your registration, a (shared) room is booked for you as requested in your registration. After registering, you should have received a confirmation of your registration (sender: nac2015). Hotel room costs are included in the registration fee.
Your registration fee includes the cost of coffee breaks, lunch on all three days and dinner on Wednesday and Thursday. On Wednesday, a regular dinner will be served (you have indicated your choice for meat/fish/vegetarian etc. during registration); on Thursday, there is a barbecue in buffet style. Drinks are included with dinner up to a maximum limit.
On both Wednesday en Thursday, dinner is preceded by a combined Borrel (i.e., drinks) and Town Hall meeting. At registration, each participant will receive 8 coins toward complimentary drinks. Additional drinks are at your own expenses and will be charged to a personal card linked to your room number.
If you have no hotel room, you can get a consumption card from the hotel reception.
Remember to pay for the additional drinks to the hotel reception when you leave the conference or during room check-out.
Should you find some spare time, the hotel has an indoor swimming pool and a fitness center. Nunspeet is on the Veluwe so there is nice walking and cycling, too.
Logistics
The hotel can help you with ordering taxis and general information on the area and transport, but we have set up a shuttle service on 20 and 22 May. These free shuttle buses will run as follows:
20 May 09:30-11:00 from Nunspeet train station to NH hotel Sparrenhorst
22 May 15:00-16:00 from NH hotel Sparrenhorst to Nunspeet train station
Shuttle buses will have a sign 'NAC2015'. 
For more information on how to reach the NH Sparrenhorst hotel, see http://www.astron.nl/nac2015/logistics.php
Registration starts from 09:00.
Talks and Posters
The program, abstracts and room allocations are found online at http://www.astron.nl/nac2015/programme.php

Bring your talk as PDF (and, if needed, Powerpoint / Keynote). Test the day before, or in the break before your session at the latest. No personal laptops allowed. Time slots will be enforced. Headset, pin-on and handheld microphones will be available.

Please bring your poster with A-0 maximum size. These is no on-site printing available. We have planned ample time in the coffee breaks for studying the posters. The annual poster prize awaits the author of the best and nicest one!
Social programme
We have two pre-dinner Borrels planned, on both Wednesday and Thursday.

The Wednesday evening program
On Wednesday evening we have an exciting program lined up on Diversity in Astronomy. Main speaker: Netherlands Minister of Science dr. Jet Bussemaker. Followed by discussion session, involving an expert moderator, a mixed panel, and: you, the audience.

The Thursday evening program
On Thursday, our darts competition will decide who can call themselves Darts Astronomer of the Year 2015. Given space-time limits, be sure to sign up at the reception desk.