The WSRT HALOGAS Survey: Introduction
Welcome to the website of the WSRT Hydrogen Accretion in LOcal GAlaxieS (HALOGAS) Survey!
On this site, you'll find information about HALOGAS, including a description of the survey, and high-level data products. For a more complete description of the survey, data products, and HALOGAS science, check out the publications page.
HALOGAS is an ambitious observational program using the Westerbork Synthesis Radio Telescope (WSRT) in order to deeply survey several nearby galaxies in the neutral hydrogen (HI) emission line. This incredibly rich data set is being used to investigate the faint neutral gas in a large number of nearby spirals, and to determine the amount of gas in galaxies which is being accreted from the surrounding environment.
Our team is made up of experts in the field, and includes members from Europe,the United States, and Australia. To find out more, please take a look at the rest of this website. If you can't find the information that you're looking for, feel free to contact us!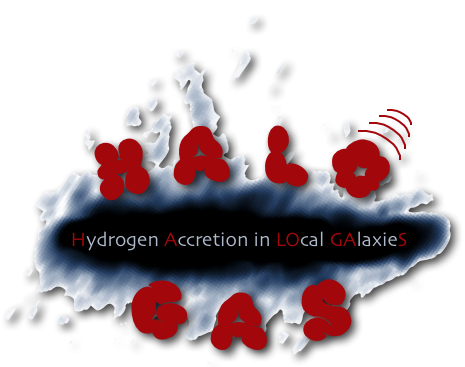 News
12/02/2019 The first public data release (HALOGAS-DR1) has been released today! Check out the Data page for more information and to access the data products.
20/04/2013 The final HALOGAS observation at WSRT completed today! Also, the publications page has been updated.
27/11/2010 The HALOGAS Pilot Survey paper has been accepted for publication in Astronomy & Astrophysics! See the Publications page.
16/03/2010 You can now download a poster showing the 13 HALOGAS galaxies observed so far; see the Data page!
04-05/02/2010 HALOSTARS observations at INT successful!
07/06/2009 The full HALOGAS survey has been accepted by the WSRT PC! Observations begin soon.
10/12/2008 The pilot survey has been granted observing time, and the observations are underway!