Venue, accommodation and logistics
The 2019 LOFAR Users and Family Meeting will take place at SCHELTEMA in Leiden, the Netherlands. This cultural centre is located in the centre of Leiden, with easy access from Amsterdam Schiphol airport and the central train station.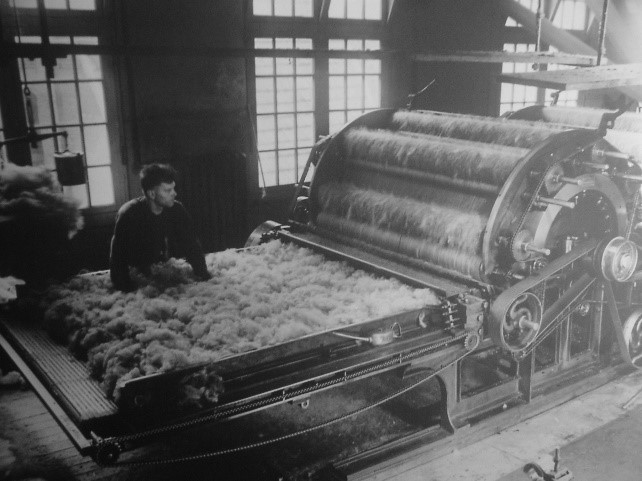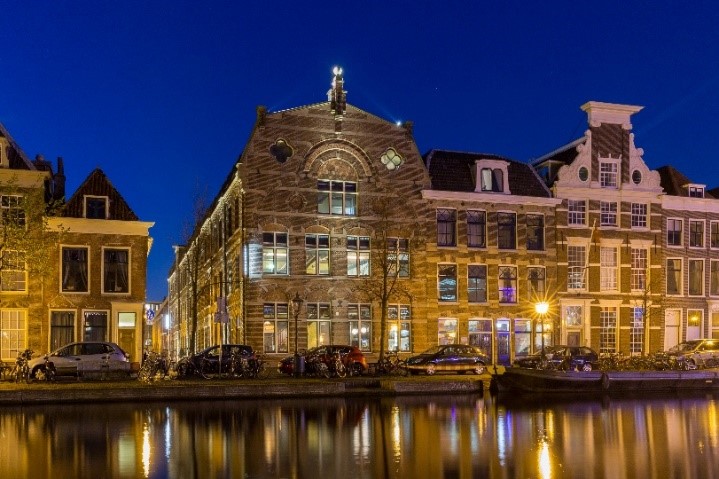 About the venue:
The Jacobus Scheltema factory was founded in 1817. The factory was booming for the first fifty years. The blankets that were produced were especially highly regarded. Scheltema won several international prizes and the wool blankets from Leiden were sold far beyond the national borders.
At the end of the 19th century, the company fell behind. The factory could not keep up with the rapid mechanisation and modernisation of that time. The outdated company was sold to Cornelis Wassenaar in 1893. Wassenaar commissioned a major renovation; he replaced the old facade with the current facade.
In 1958 the curtain unexpectedly fell on the Scheltema factory. Not enough orders were coming in and the company proved to be too small and did not have enough resilience to sufficiently absorb these setbacks. After fifty years of partial vacancy, the beautiful building has been restored very basically, under the direction of the Leiden architect Reinier Verbeek. During the restoration, hardly anything has been thrown away, many materials have been re-used and as a result, the building has retained its authentic character.

The address of the workshop venue is:       
Scheltema Leiden
Marktsteeg 1
2312 CS  Leiden, the Netherlands
Phone +31 (0)71 514 4441 / See https://www.scheltemaleiden.nl
About the city of Leiden: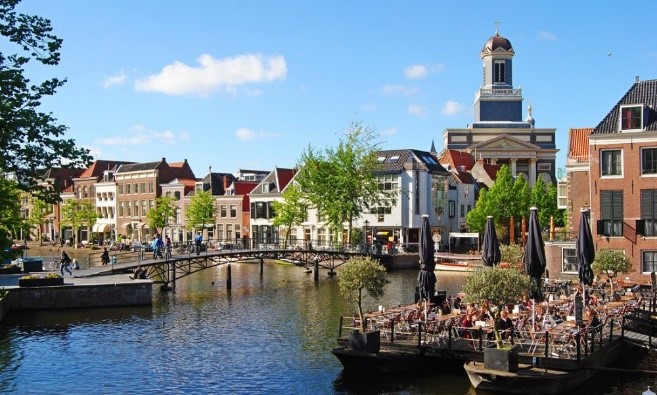 Leiden has the oldest university in the Netherlands. In addition, the city is known for its rich history and the old inner city, with canals, city gates, bridges, windmills, a castle, an observatory, the Hortus botanicus, weavers' houses, courtyards, two large (late) gothic churches and various monumental buildings.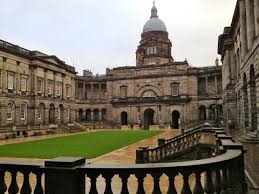 Leiden University:
In 1575, Leiden had the distinction of becoming the first city in the north of the Netherlands to have a university. Legend has it that the university was a reward for the heroic resistance to the Spanish occupation. Leiden University became one of the leading universities in Europe and the tremendous degree of freedom of conscience stimulated the school's growth.
We will provide maps of Leiden/city guides from the VVV tourist office at the conference reception. You can also download these here:
Map of Leiden
City guide
Travel information

Amsterdam Airport Schiphol (AMS) has excellent connections to the main European intercontinental hubs.
How to reach SCHELTEMA Leiden from the Amsterdam Airport Schiphol
By car:
From Amsterdam Airport Schiphol the journey takes approx. 30 minutes by car (approx. 30 km).
By train:
Every 15 minutes there is a train from Amsterdam Airport Schiphol to Leiden Central station. This train ride will take approximately 15/20 minutes.
To plan your train trip, you can use the website of the Dutch railway system (you can select English language): https://www.ns.nl/en/journeyplanner#/
From the train station Leiden Central (Stationsplein 3J, Leiden) it is only a 8-minute walk to SCHELTEMA.
Route description: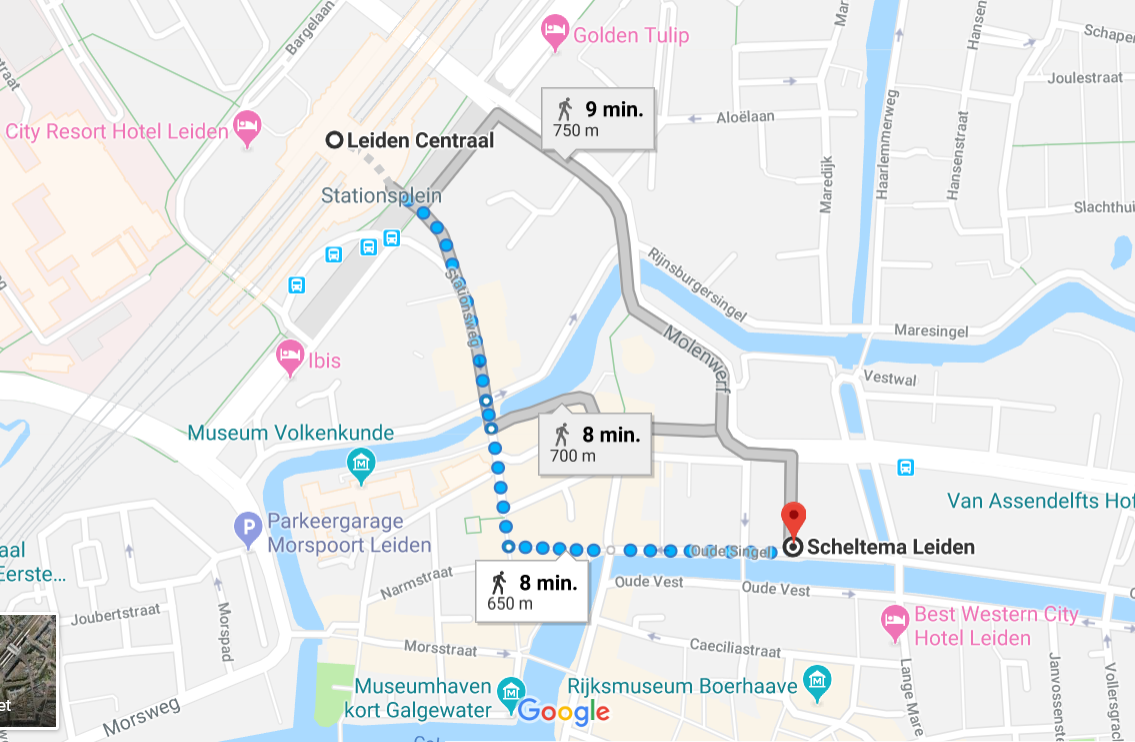 Parking
Tariff: € 2,75 per hour; € 0,50 per 11 minutes, maximum daily rate € 20,00
Address: Lammermarkt 9, 2312 CK  Leiden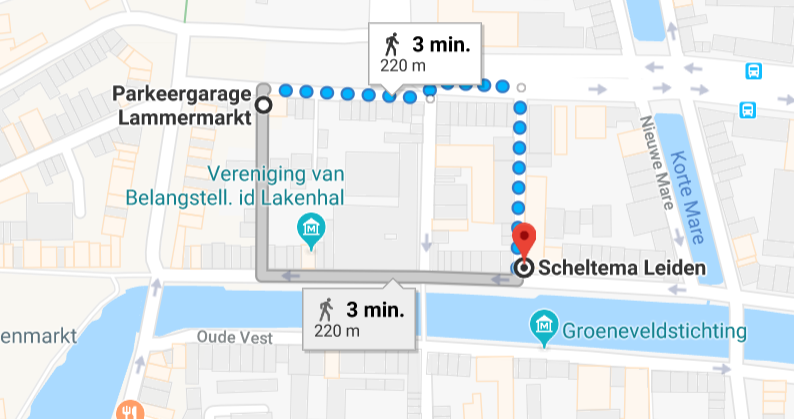 Restaurants
There will be a conference dinner during the LOFAR Community Science Workshop on Tuesday 21 May.
For the other evenings, you can choose between a variety of excellent restaurants and bars.
Leiden has hundreds of restaurants, cafés and bars. Every cuisine imaginable can be found here and there is something available in every price range. You will find that many of Leiden's restaurants and cafés are located in beautiful historic monuments, each with its own rich history. This is what gives the city its special ambience.
For more information, please click on the following link.
Hotel reservation
Various hotels are located close to SCHELTEMA in Leiden and near the centre of Leiden.
All participants are requested to arrange and pay for their own hotel reservation. A block booking has not been made!
For your convenience, please find below a list of hotels for your stay in Leiden. In order to get a discount please use the reservation code 'UNIVERSITY LEIDEN / LOFAR2019'.

Offers are subject to availability.
Otherwise, feel free to reserve one of the many other hotels in Leiden. It is recommended to reserve a room well before the conference, as May is a popular month for tourism.
Reservation code: 'UNIVERSITY LEIDEN / LOFAR2019'
Hotel Golden Tulip / Tulip Inn Leiden Centre
Schipholweg 3, 2316 XB  Leiden
Telephone: 00 31 71 4083500
E-mail to: reservations@goldentulipleidencentre.nl
Golden Tulip: Euro 114,74 including breakfast, excluding tourist tax
Tulip Inn: Euro 93,32 including breakfast, excluding tourist tax
https://tulip-inn-leiden-centre.goldentulip.com
Just a 10-minute walk from Scheltema.
IBIS Leiden Centre Hotel
Stationsplein 240-242, 2312 AL  Leiden
Telephone: 00 31 71 5160000
Email to: H8087-RE@accor.com
IBIS Leiden Centre: Euro 80,79 including breakfast, excluding tourist tax
https://www.accorhotels.com/gb/hotel-8087-ibis-leiden-centre
Just a 10-minute walk from Scheltema.
Fletcher Wellness-Hotel Leiden (previous: City Resort Hotel Leiden)
Bargelaan 180, 2333 CW  Leiden
Telephone: 00 31 71 8700260
Email to: banquetsales@wellnesshotelleiden.nl
Fletcher Wellness-Hotel Leiden: Euro 120,00 including breakfast, excluding tourist tax
https://www.wellnesshotelleiden.nl/nl/
Just a 10-minute walk from Scheltema.
Best Western City Hotel Leiden
Lange Mare 43, 2312 GP  Leiden
Telephone: 00 31 71 5130505
Email to: info@bestwesterncityhotelleiden.nl
Best Western City Hotel Leiden
Single room: Euro 99,00 including breakfast, excluding tourist tax
Double room: Euro 109,00 including breakfast, excluding tourist tax
http://www.bestwesterncityhotelleiden.nl/
Just a 5-minute walk from Scheltema.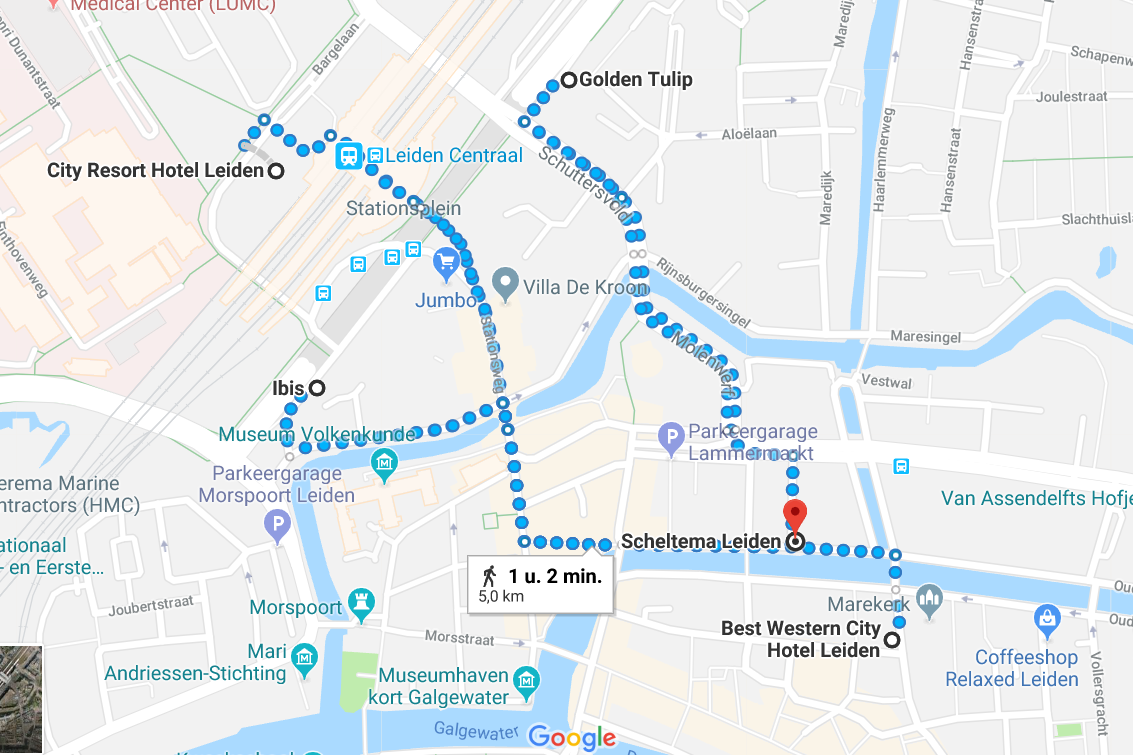 Contact
If you have any additional questions please send us an email.