Venue, accommodation and logistics
Venue, accommodation and logistics
The Science conference 'The Broad Impact of Low Frequency Observing' and the 4th LOFAR Users meeting will take place at the CNR Conference Centre in Bologna, Italy.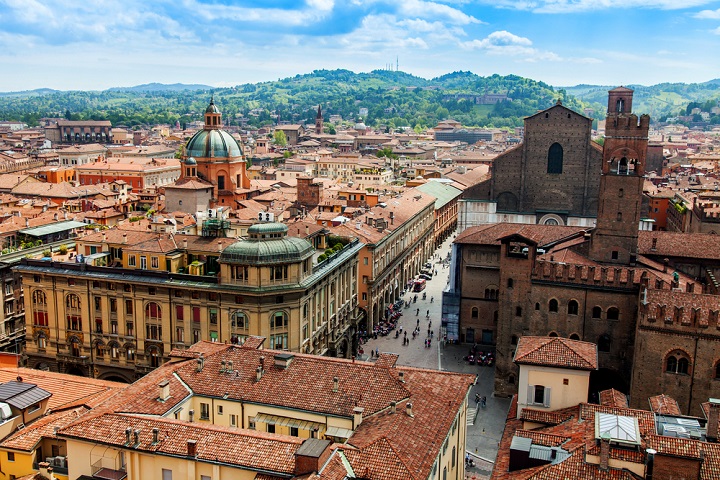 Bologna
The city has been an urban centre, first under the Etruscans (Velzna/Felsina) and the Celts (Bona), then under the Romans (Bononia), then again in the Middle Ages, as a free municipality. Bologna is the home of the oldest university in the world; the university was founded in 1088. The city hosts thousands of students who enrich the social and cultural life of the city. Famous for its towers and lengthy porticoes, Bologna has a well-preserved historical centre (one of the largest in Italy).
As an important cultural and artistic centre, Bologna has a varied mixture of monuments and architectural examples (medieval towers, antique buildings, churches, the layout of its historical centre) as well as works of art which are the result of a first class architectural and artistic history. Bologna is also an important transportation crossroad for the roads and trains of Northern Italy, where many important mechanical, electronic and nutritional industries have their headquarters.
Travel information
Bologna International Airport (BLQ) has excellent connections to the main European intercontinental hubs. You can check on the airport timetable page for more infos.

Airport shuttle bus timetable page: BLQ Bus
You need to buy the one way ticket (6 EUR - cash only) on board. Journey time to get to the city center is approximately 25 min depending on traffic.
Suggested stops to get off the bus are "Stazione Centrale" (Railway Central Station) or "Mille".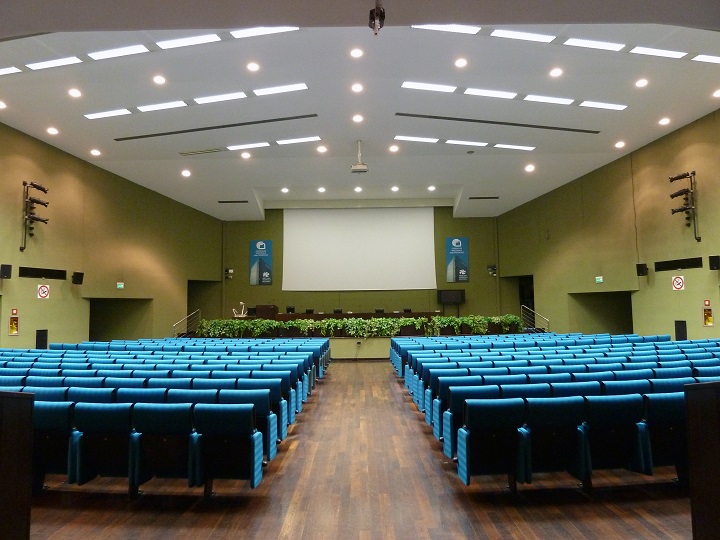 Venue: CNR Conference Centre
The Bologna Research Area offers services and support to the Italian National Research Council (CNR) and the National Institute for Astrophysics Institutes present on the site as well as to those in other cities in Emilia-Romagna. On the campus in Via Gobetti there are a total of eight Institutes belonging both to the CNR and to the Italian National Astrophysics Institute (INAF) together with the central Area Library, Conference Centre and ancillary services.
The striking design of the CNR Conference Centre is the work of Enzo Zacchiroli, one of Italy's most famous architects for public building projects. The complex is an integral part of the Research Area campus, and was specifically designed for scientific discussion, meetings and conferences.
Hotel reservations
Bologna Welcome has provided an online tool for participants to book a hotel room against a discounted rate. If you want to profit from this discount, book a room via:
http://www.bolognawelcome.com/en/international-astronomy-conference-offer/hotel-offers/
Use the discount code mentioned in the registration confirmation email. Offers are subject to availability.
Otherwise, feel free to reserve one of the many other hotels in Bologna. It is recommended to reserve a room well before the conference, as June is a popular month for tourism as well.
Restaurants
Bologna Welcome provides a convenient search engine for restaurants according to your taste, dietary requirements or pocket. We invite you to have a lookup there - we do not have any special recommendations since the vast majority of restaurants offer a more then palatable selection.
http://www.bolognawelcome.com/en/home/live/food-drink/all-places/
How to reach CNR Conference Centre
WALKING: it will take you about 40 minutes from the city center.

Visualize Walking directions to Via Piero Gobetti, 101, Bologna BO, Italy in a larger map
BUS #11A or 11B: you can get either on via Ugo Bassi (direction "Bertalia" for 11A or "ITC Luxembourg" for 11B) and get off at "Rotonda Gobetti". The ride takes about 16 minutes, the ticket costs 1.20 EUR and can be purchased at newspaper shops, tobacconists, or from a machine directly on board (but it costs 1.50 EUR and the machine does not give change). At the Rotonda (roundabout) Gobetti, you need to walk up via Gobetti in the North direction; the CNR Research Area is just at the end of the street. pros: 11A-B run quite often (about once every 10 minutes); disadvantage: drops you a little further from the CNR.

BUS #87: you can get it on via Marconi (see map) or at the end of via Indipendenza and it will end its ride just in front of the CNR main gate after some 10/15 minutes. The cost is 1.20 EUR, and the ticket can not be purchased on board for this line pro: drops you at your final destination; cons: runs much less often (once every 30 min, and quite unpredictable), needs a longer walk to get at the departure station, tickets can not be purchased on board.

TAXI: if you want to share a ride, it can be a quite convenient option. The ride will take about 10 minutes and cost some 15 EUR. The hotel lobby can surely make the reservation/call for you.
Contact
If you have any additional questions please send us an email.
---
E-mail: lowfrequency2017@astron.nl